They're in this sports blood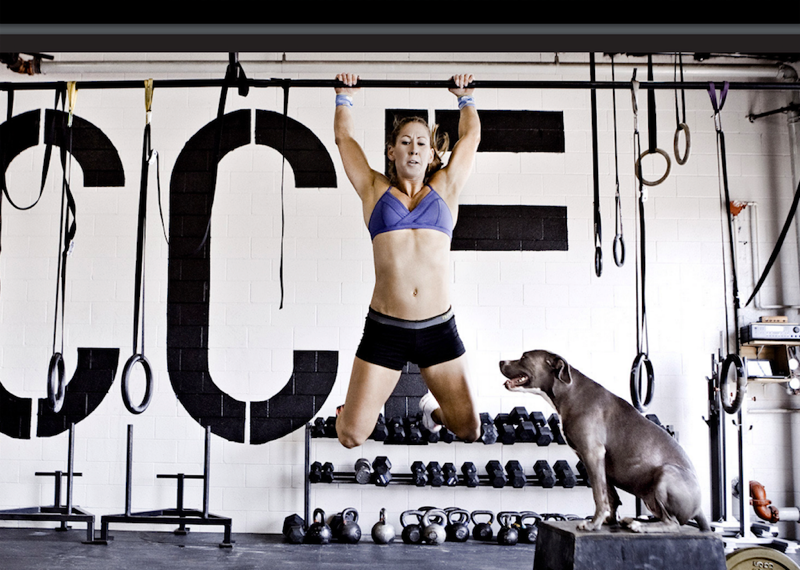 If you've ever been into a cross-fit gym you may have noticed they are a little more on the 'garage-ey no-frills side of life'. This is obviously part of the appeal. When one is slinging tyres, lifting heavy weights and grunting, this is the tough environment you want to see.
But what about that heavy breathing sound coming from the short hairy bloke near by?
It's likely a CrossFit dog. These guys are not only allowed in the gyms, they are like a badge of honour in them.
The story goes that back in 2003 when the somewhat smaller CrossFit following was just starting to gain popularity. There was a dog named Athena. A pit bull, naturally. This particular pit bull belonged to a bloke named Greg Glassman. He was a coach with a gym in Santa Cruz USA where he trained athletes using moves that had previously gotten him kicked out of commercial gyms.
During these sessions, his dog Athena would regularly appear beside him and those he was training.
"Athena would sit under the stairwell, in her bed, under a blanket, and with each new arrival you'd hear a thump-thump of her tail as she'd recognize the regular voices," Coach Glassman recalls.
This is something that still goes on today. At CrossFit Collingwood where they say Crossfit isn't a typical workout so don't expect a typical gym.
Here you'll find a regular motley crew in attendance by the names of Murphy, Bane and Buster, all two year old staffi's from the same litter. Brothers no less. Brothers in arms.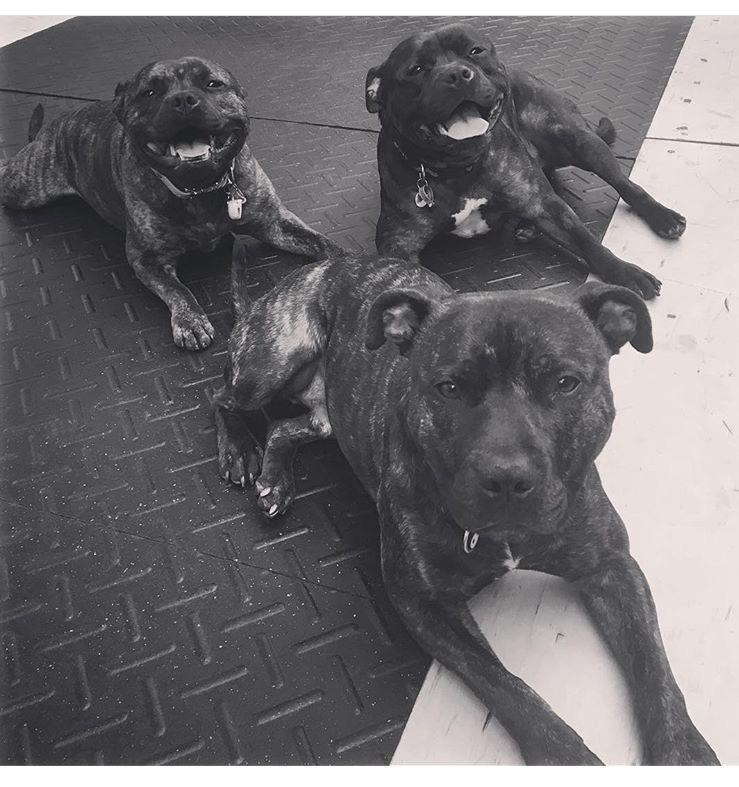 The humans at this gym are just as tight, with members telling owner and trainer Renee
"On those tough days when everyone is going to the pub instead of the gym –  It's knowing we'll see the dogs, that gets us here"
These dogs love the people who come to train just as much in return. Murphy who is best known for his party trick of singing Happy Birthday with a ball in his mouth as the member in question is serenaded by the training group on their special day. 'Murph' likes to take his ball outside and howl along to the Happy Birthday tune then return to the gym floor to drop the soggy warm tennis ball as a gift right at the feet of the birthday boy or girl, leaving the group wondering how he knows just who they are all singing to.
Owners and Trainers Renee Pubrick and Joshua Hromis have been operating this cult gym with a friendly dog loving following member base for almost five years now which means that at times there are up to a dozen dogs per week that Renee says come to just 'hang out'
CrossFit is a loud, intense set of varied functional movements performed at high intensity. So how do these dogs safely blend into the gym floor?
"They're all really good. It's like they "just know". When it's time for class they follow Murphy's lead, he's the pack leader" says Renee.
Some are trained to stay on their mats by their owners and the more motley of the crew are designated their own poles to be lovingly tied to. The pooches that remain will often just hang out underneath the common area table or chill in the gym's office room, but one thing they all do the same is watch. They all watch the class. Intently.
However once training in this 400sqm space ceases and the music is switched off, it's party time for these guys. Murphy gets his minerals in by running around licking all the sweaty participants, while Bane (remember the dude out of Batman?) and Buster as in Buster Rhymes, have their favourite people to visit.
"They have their favourite people. They know who will play ball and who of the humans just wants to stretch"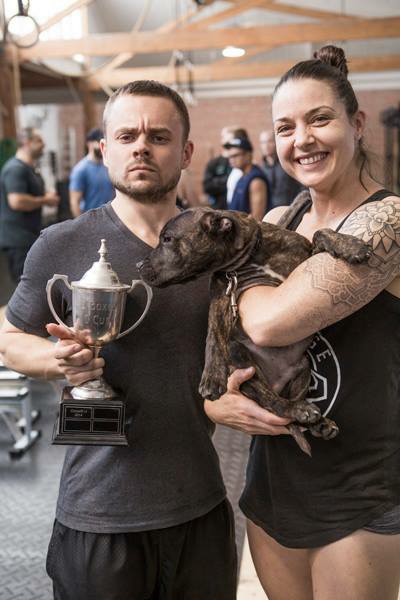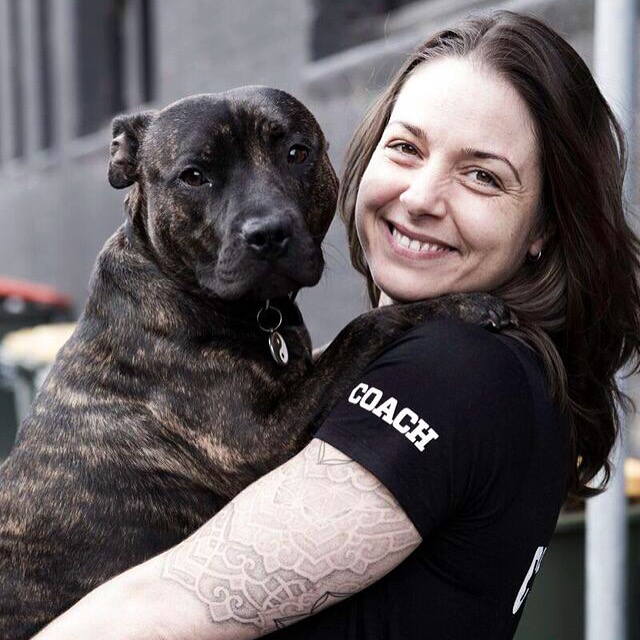 Renee with her business and life partner, Joshua Hromis, Renee with two year old Murphy and the doggie brothers in arms with Jules 'the human'
Having dogs at a place of fitness, growth, health and community is fun but it's also very healing. The members here often talk of the pain of wanting a dog but not being able to have one as they live in apartments.
Renee says "Dogs are good judges of character as well as being your best mate. Your shadow"
If you feel like you could do with some of this puppy love  – and tighter buns  – give this place a call on their enquiries line: 03 9416 2654 or you can see more of the action on the CrossFit Collingwood's Instagram Feed
Dogs as part of this hugely popular exercise regime hasn't gone unnoticed in the professional world either. Michael Brian a seasoned photographer describes himself as a 'leading creative mind of Dog Photography and CrossFit' and his work has appeared many times in CrossFit.com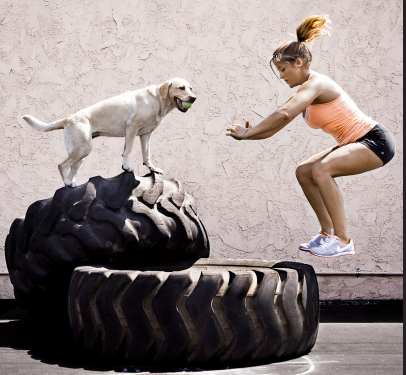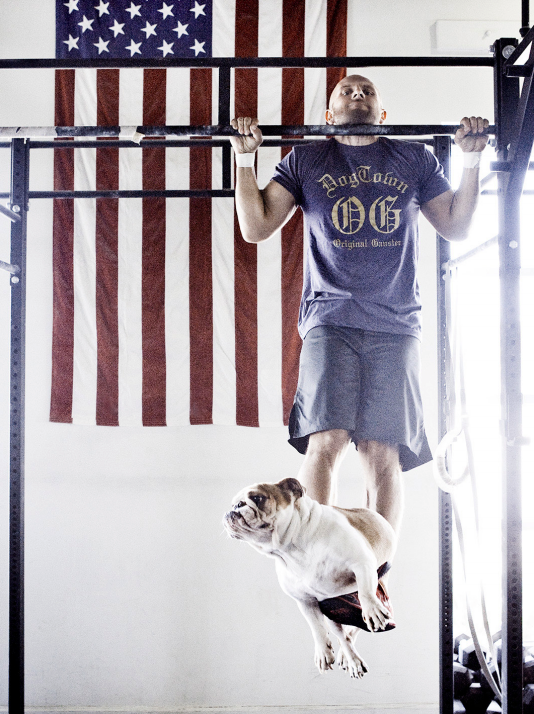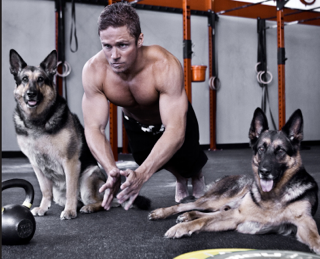 These amazing images are by Photographer, Michael Brian and appear in the CrossFitJournal.