You might be familiar with the coveted yearly art exhibition. 'The Archibald'. Established in 1921 and widely recognised as Australia's most prominent portraiture prize. Entries must have painted their portrait inside the last year to have a stab at winning.
Being a portrait competition, the artist usually strives to capture something special or unusual about their human subject, but what if it where your hound?
It would have to be called the Poochibald Prize wouldn't it?
That's just what Clarence City Council decided to call their art competition when they unleashed 110 drawings, paintings, prints, linocuts and collages of dogs of all shapes and sizes done by the local community and hung them on the walls of the Schoolhouse Gallery in Rosny, Tasmania.
The aim of a portrait is usually to bring out what is most attractive about your subject. Ultimately to display what they embody. Something that is unique to them. Perhaps something to bear in mind when looking at this very sweet and insightful 'pawtrait' from the kids entries.
"I love you. Me too" – paints this kid about their dog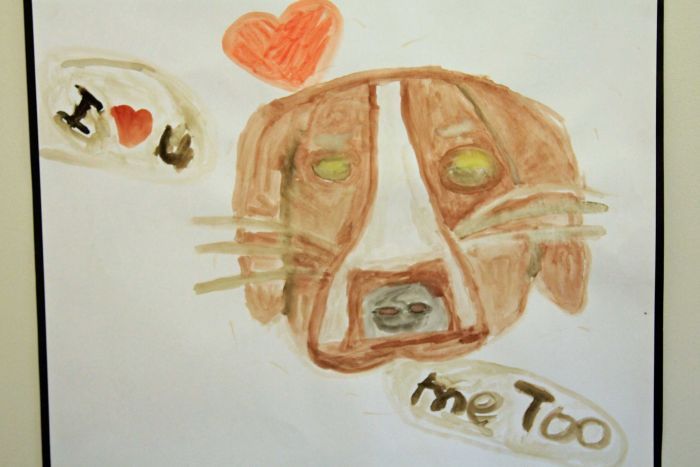 There were a number of contributing artists and adults that also gave insight into their motivations.
Anna Williams claimed the adult category first place prize of a $300 gift voucher with her linocut portrait of her niece's dog Basil.
"I chose him because of his brindle coat and his brown and black patches," Ms Williams told Jo Spargo on ABC Radio Hobart.
She also said that one of the reasons why she chose Basil as her subject over her own dog , Cloudy the blue heeler was
"Basil is very attractive and young, Cloudy is elderly, growing a few lumps and some hair in the wrong places and I love her dearly — I think she's beautiful but I don't think other people would."
Seems even in the dog world, art can be a fickle and ruthless place sometimes.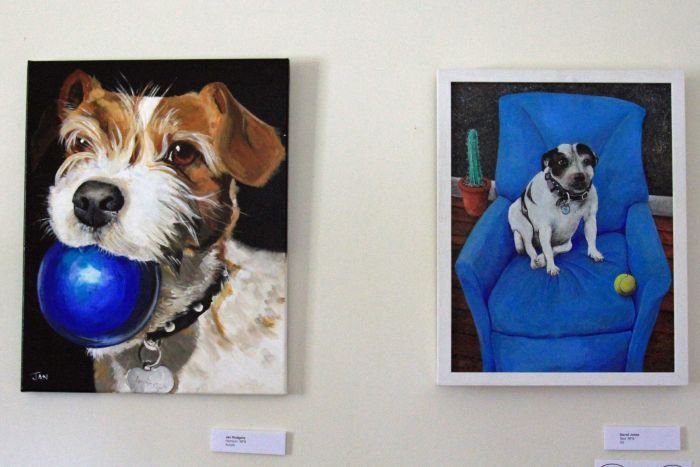 While the Poochibald awarded prizes to winner and runners up, the real aim of the art show was to bring dog and art lovers together. Something that Lost + Hound greatly supports. For more great dog art you can visit Lost + Hound's Gallery section or read articles on global dog art in our Dog Art section.